Our Story TO 'Green'
Our 10 year strive to reduce energy usage, yet still provide high levels of comfort, achieves a new high in May 2023 when we can firmly say 'our entire month is Net Zero CO2!'
Attention, Corporates, government departments, business and frequent travellers everywhere. If by choosing where you stay or where you have your meeting or function, you could could help global sustainability, would you?
Our Net Zero CO2 Promise
If you are a patron of the Kegworth Hotel & Conference Centre, whether you stay with us, use of our meeting facilities or have or attend a function on our premises, your impact in terms of CO2 emitted will be net zero.
Its that simple – when you stay with us compared to any other hotel – your CO
2
footprint is reduced.
In fact, its zero CO2
.
All of us, through our activity create CO2 as a by-product and contribute to global warming. In contrast, any activity done has a lesser than normal carbon footprint is helping global sustainability.
So, the choice you make to favour use our hotel instead of others will directly help counter global warming.
Is there a downside? There might be if you were choosing an inferior product or having to forego comfort, or needed work facilities. At Kegworth Hotel & Conference Centre, that is not how it is. You'll benefit from our most professional and extensive meeting facilities, spacious, comfortable and well equipped rooms as well as great quality food and ample lounge and gym facilities. All at a great location and all of it at superb value.
Read below how we did it and how we will continue to stay Net Zero.
Pictures on this page have been taken by our customers, staff and friends. We have included them here in celebration global nature and as a reminder of all the things we want to support preserving.
Probably, the only hotel in the UK that is net zero Co2, right now!
Our journey started in 2013 when we committed to reducing our energy footprint in a bid to help ourselves with energy costs. By 2020 we had halved our energy use. 
Great – our CO2 footprint had halved too! However, in cost terms we had stood barely still, reflecting the tide of rising energy costs.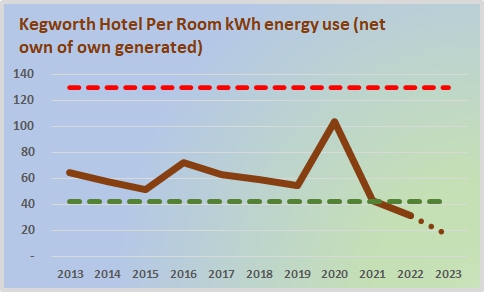 We had done commendably well in reducing our energy footprint by changing habits, using more efficient lighting, cutting out the rarely used swimming pool – it was not going to cut it so far as us breaking 'away' from other full service UK hotels. To achieve our goal of net zero –  we had to make step changes.
It took 'out-of-the box thinking', some serious investment, an acceptance of the extra cost and changes in how we did business for us to breakaway from UK 'norms'.
One of the technologies we invcested in is solar energy generation. But, alas in the UK – the sun shines (if it does!) at times (the day) when our energy needs are lowest. So we had make investment in technology that smoothed the production curve. Then again we have to balance the stronger energy generation in the summer against the lower winter production months.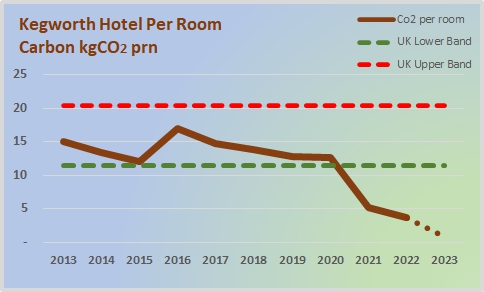 In summary, for the majority of the year we will generate enough energy of our own to offset any carbon bearing energy supply.  We are currently working on additional energy generating to change this so it works in the winter months too. Any shortfall on our promise of net zero, we will make up by purchasing 'green energy credits' – therefore supporting worldwide sustainability initiatives.
Please enjoy the indulgance in nature that is on this page and please support our business – even if it is only a small step in the right direction to global sustainability.
Kegworth Hotel is promoting sustainability
Every gram of carbon saved is a step in the right direction
As a patron of the Kegworth Hotel, you will be supporting a sustainable business model